President's Welcome
Dear Current & Future Students, Parents, Alumni and Friends,
I am happy that you have taken time to visit our Holy Cross Website. This gives you the opportunity to learn about current news and to refresh your mind on the mission at Holy Cross. To our first time visitors, I am happy to give you some overview about Holy Cross and hope that you will become a regular visitor.
Each day at Holy Cross of San Antonio we strive to cultivate and expand your confidence. In our mission Preparing students for earthly and eternal life are embedded in our educational philosophy, the Moreau Tradition of Education. It is the philosophy in Holy Cross schools and universities throughout the world. This tradition of education originated more than 150 years ago with Blessed Basile Moreau, founder of the Congregation of Holy Cross. It is in this philosophy that Holy Cross participates in the educational mission of the Catholic Church.
A Catholic education is one that is presented in a global context. Academic freedom has been a hallmark of Catholic education and is absolutely essential. Exposure to knowledge and learning is without limits. As a Catholic school, education at Holy Cross stands in opposition to society's attempt to limit parental values; to limit parents' educational choices; to limit spiritual experiences and theories with the limitations of the scientific method; to replace moral and cultural values with modern fads and tendencies; to blight concepts and beliefs that are rooted in Christian principles. But, Holy Cross will not be limited by these boundaries. Education at Holy Cross prepares students to surpass these limits.
Holy Cross of San Antonio is a valued option for parents who choose a Catholic education for their children. We stand with parents who make this choice although most often this choice is extremely difficult and causes financial stresses.
The educational opportunity at Holy Cross is emphasized by the graduation and college acceptance rates. Holy Cross alumni serve in all levels of society and are contributing citizens of their communities. Friendships developed as students continue throughout their lives thereby giving credence to the attribute often proudly repeated "Holy Cross Family."
I welcome you to our online community and into the Holy Cross family on campus.
Sincerely in Christ,


Brother Stanley Culotta, C.S.C., M.D.
President
---
Watch our President's welcome video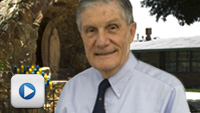 ---