Parent Testimonials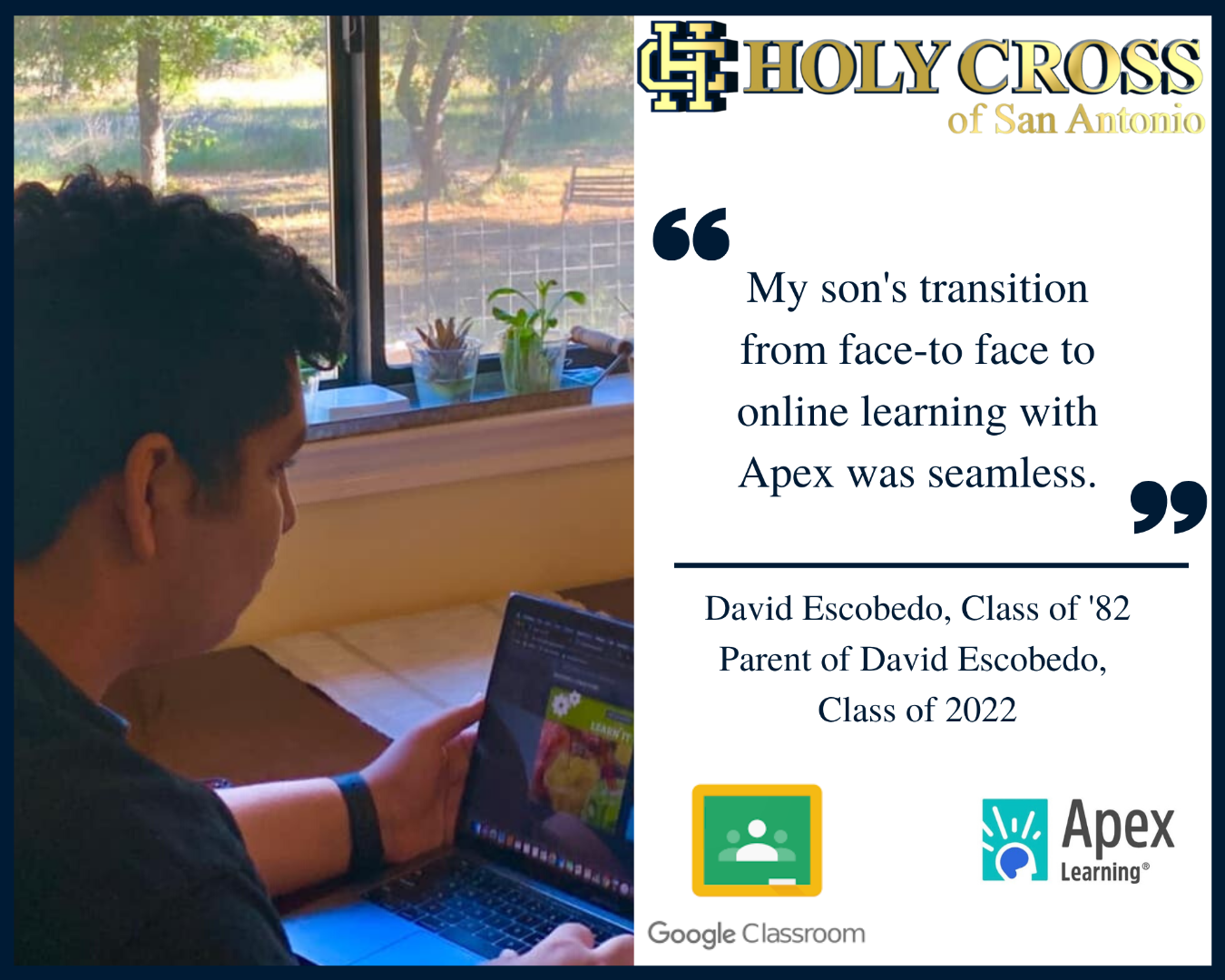 "My son's transition from face-to-face to online learning with APEX was seamless. Holy Cross of San Antonio had established a blended model prior to the school closure in March 2020 and my son was able to continue his classes at home. The teachers and staff provided zoom classes, zoom office hours, telephone outreach, and class schedules to guide my son through classes to ensure he was on pace to complete his studies. The administration also provided parents with information and the expectations of online learning. I am very pleased that Holy Cross prepared my son for online learning by making it part of their program. This ensured my son's learning was not interrupted when the school building closed."
David Escobedo '82
---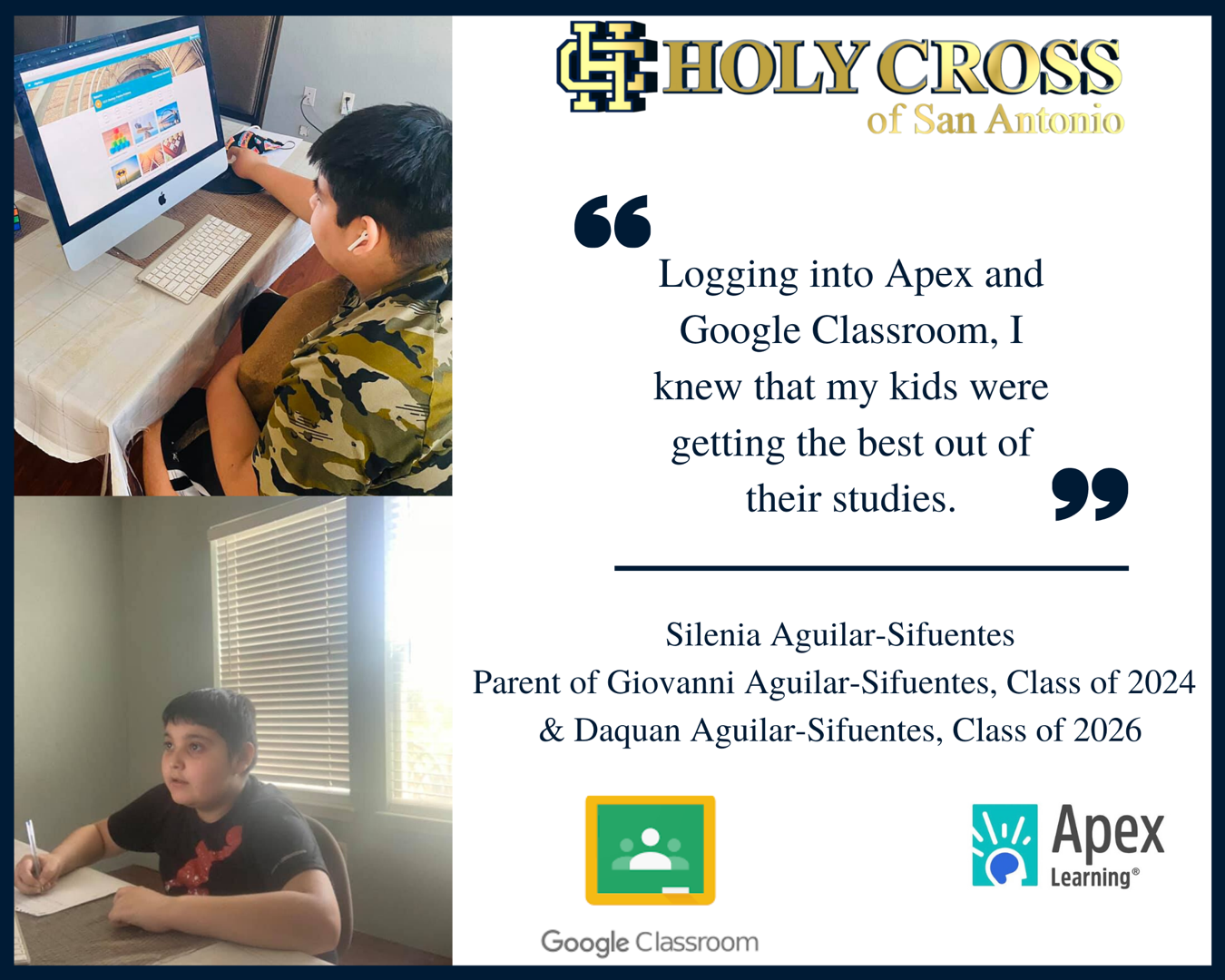 "As a parent life can be busy and overwhelming. Logging into Apex and Google Classroom, I knew that my kids were getting the best out of their studies. Structured, organized, and funny but important topics to help my kids learn. I often found myself enjoying helping my kids with their work because I am learning too."
Silenia Aguilar-Sifuentes
---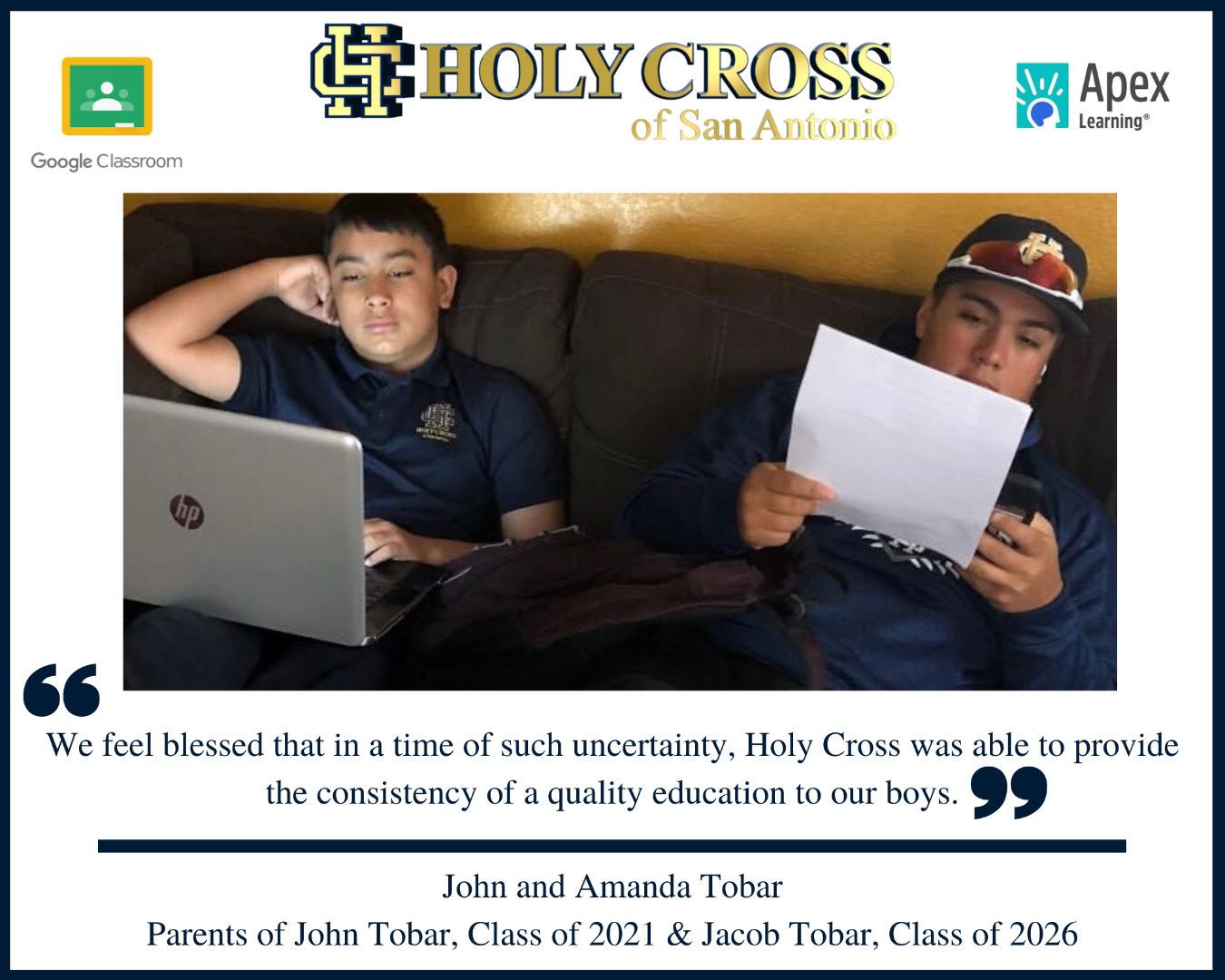 "We were impressed by the education that our boys continued to receive during the COVID crisis. Holy Cross had long been doing online learning, so the transition was seamless. The only thing that changed once they were home was the addition of Zoom lessons from the teachers. Within three days, the teachers were giving their lessons live and making themselves available to the students when they had questions. We feel blessed that in a time of such uncertainty, Holy Cross was able to provide the consistency of a quality education to our boys".
John and Amanda Tobar
---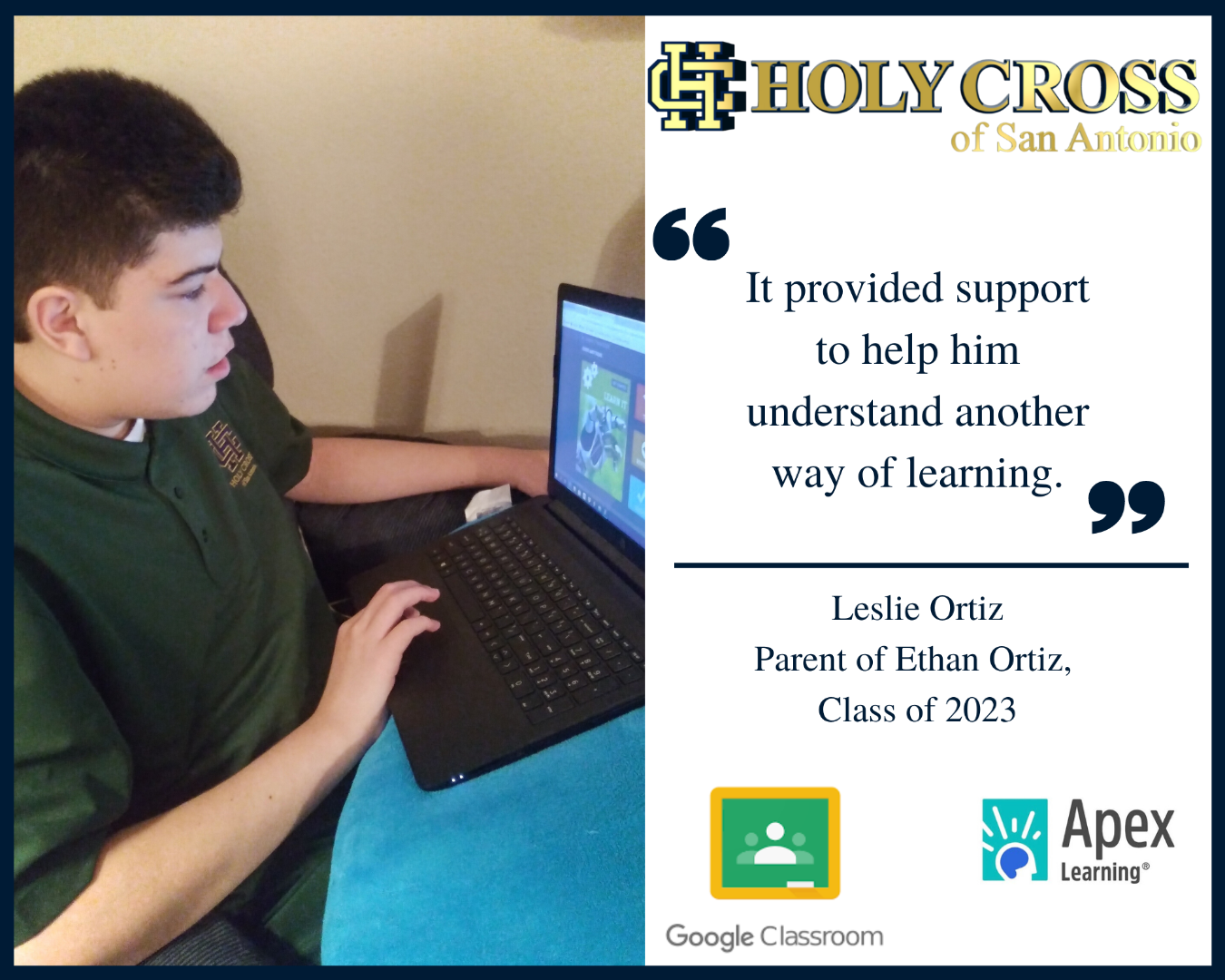 "Ethan began using APEX Learning since the beginning of the year and was familiar with the software. He utilized APEX as a daily tool and it provided support to help him understand another great way of learning. All of his teachers used online learning by sending specific daily lessons and activities. He was able to work anytime, at his own pace, and could review when needed. His teachers were always available to answer questions. Ethan participated in the "Workin' on APEX" every Wednesday. He was so excited when he heard he was the winner of the APEX raffle and received an awesome Echo Dot."
Leslie Ortiz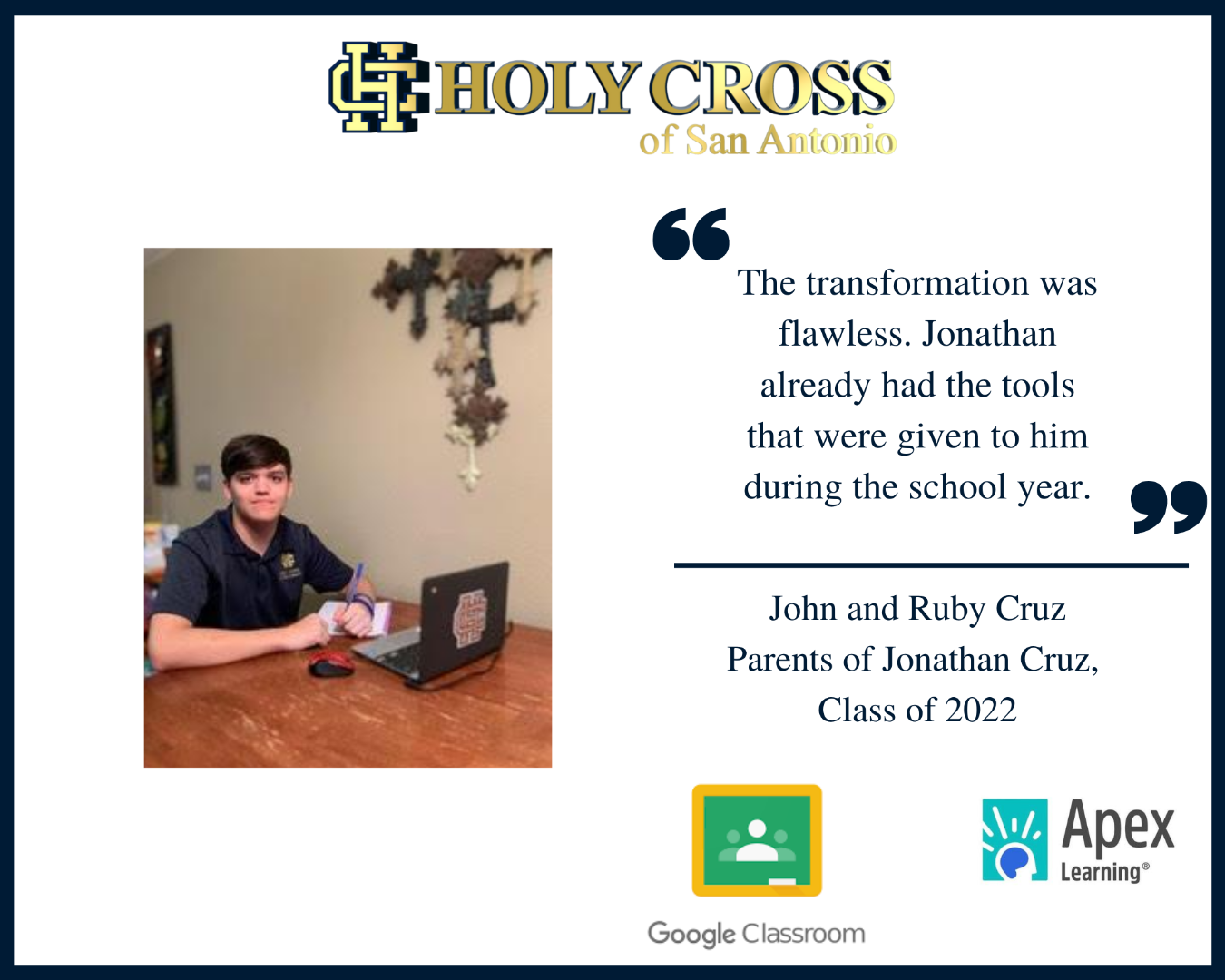 "When Covid-19 hit our community, Jonathan was having to transition from being in the classroom to online learning. The transformation was flawless, Jonathan already had the tools that were given to him during the school year. He was able to pick up where he left off and continue with his studies and education. Jonathan was grateful that he was able to jump onto APEX and Google Classroom to get his studies in, and not to mention, he was happy to be able to join his teachers and classmates via Zoom calls. We personally feel that Holy Cross of San Antonio was a step ahead of other schools due to the fact that not only did our children have the tools that were a click a way, they were in communication with our children as well as the parents with any and all of the changes that were being made".
John and Ruby Cruz
---