Class of 1967
The 300 Initiative Top Contributing Class of 2017
The "300 Initiative" for 2017 did endow our alma mater with meaning and stimulated a "fellowship of endeavors" rousing the freshest by many, inspiring some more so than others, that poured into all of us the beauty begotten by $121,000 in emergency donations.
Awaking hopeful mindsets in 2017 to realize the collective impact that showed love, taught us extendedness, and kept the futures of others in sight is worthy of emulation in 2018 and 2019. The concept of the "300 Initiative" was brilliantly conceived with the spontaneity of inspiration from Ricardo Cedillo '71. Vital to the continuous improvement and knowledge-creating operation of our School, the Alumni Association tapped into the tacit and often highly hopeful spirit of its members, but none so charitable as the 1960's alumni ($66,475/55%). There was a vast domain of heroes who donated, none so generous as the Classes of "1967" and "1965" ($33,932/28% together).
We are bound by the optimism, like hope, to be courageous in donating to Holy Cross and acknowledge that fundraising offers the modest, but vital capital to contend, seize, and advance the School's functioning continuum of viabilities.
Saint Vicent de Paul is the "Apostle of Charity." Most profound is his quote, "Charity is the cement which binds Communities to God and persons to one another." Our success is a triumphant testament to the earnest purposes of compassion, charity, and love, in which, we are each more resilient together in spirit for Holy Cross.
A bar chart follows that depicts the top 10 donating classes and it is with unending gratitude through Class funding raising energies, a generous loan of $50,000 from the Class of 1979, and the Alumni Association's fundraising platforms. The "Class of 1967" had finished an eight-month search for its "Fiftieth Reunion" and found 90% of addresses, E-mails, and phone numbers for its 100 alumni. Contact information for their alumni provided them with an exemplary "highest class" donating outcome for 2017.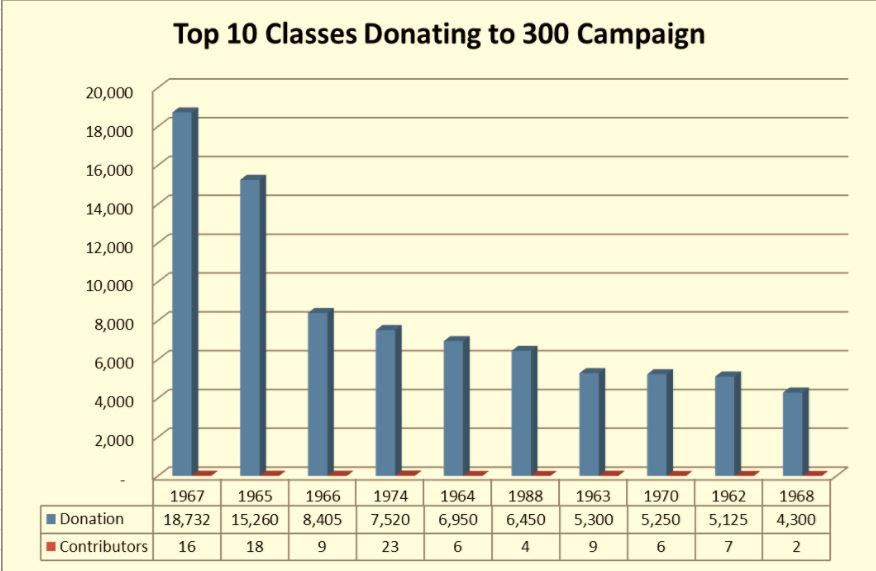 The contagiousness and goal expectations for 2018 are hoping to exceed those of 2017 by May 2018 and for continued donations through October 27, 2018 when the highest donating Class will be announced. As a surprise for the Class of 1967, this message has their class slide show (shown at the top of the page) and photographs taken at their union on June 24, 2017 and on the Holy Cross of San Antonio website titled under "300 Initiative."
It is not too late to join the ranks of the 300, can be made by clicking on "300 Initiative" under the development tab or mail your donation to Holy Cross of San Antonio.
Attention: Business Office (300 Initiative),
426 N. San Felipe
San Antonio, Texas 78228
Make checks payable to Holy Cross of San Antonio and identify your Class graduating year in the "For" section of your check.
Whosoever raises you up is raised up,
Arthur Mancinas '88
Holy Cross of San Antonio
Board President