Welcome to Holy Cross of San Antonio
Dr. Rene Escobedo, Holy Cross class of 1992
FROM THE PRINCIPAL
Dear Holy Cross Family,
It is with honor that I welcome you to Holy Cross of San Antonio Middle and High School's website. You will find that it is interactive and user-friendly in that it provides all who visit it with easy access to the school calendar of events and activities, the ability to apply and re-enroll with our online registration form, and the capability of subscribing to our Holy Cross Blog and Knight Life. You will also find our social media networks easy to use and full of information about all the good things happening at our school -- please follow us on Facebook (@holycross.sa) and Twitter (@holycross_sa).
This year we celebrate our 60th anniversary! The school has grown dramatically over this time and has positioned itself to provide a college preparatory Catholic education for San Antonio's youth. Our focus is to foster the vibrant community that exists while maximizing our rich academic offerings. Continuing with our excellent middle school program and expanding our Dual Credit Program will provide our students with the academic opportunities necessary for selecting the university of their dreams.
At Holy Cross of San Antonio, we have a rich tradition of educating students in the tradition of the Holy Cross Congregation by never educating the mind at the expense of the heart. Our core values are rooted in the teachings of leadership, respect, strength of character, Christian family, self-mastery, cooperation, zeal, and spirit. Here, as well as in all Holy Cross schools, a student will receive solid academic and moral foundations anchored in the hope that only a deep faith can provide. Having experienced the impact that a Holy Cross Education can have on a student, I felt honored to come home and lead a team that is committed to educating both hearts and minds.
Looking towards the future, the Holy Cross faculty, staff, and administration are dedicated to keeping our rich educational tradition alive. With the confidence our parents afford our teachers, we will continue to foster positive relationships with all of our students while providing them with the tools needed to succeed at Holy Cross and beyond.
In Holy Cross,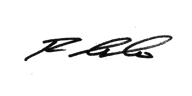 Rene Escobedo, Ed.D. '92
Principal